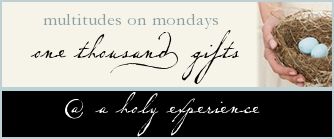 My gratefulness list continues.......
#5 Holding my beloved's hands while we both enter into worship
#6 A moment of shared tears and love between my daughter and me......suddenly 8 months seems
too little.....too little time left before my daughter ventures into her own home......
#7 A healthy family : )
#8 Laughter shared with Mom during our phone conversations
#9 The power, hope and comfort of prayer
#10 An afternoon spent with dear friends
#11 Laughter
#12 The gentle knock from my grown son at my door......smile......hi......just checking in. I love his beautiful smile.
#13 The beauty of nature, God's creations blanketed with beautiful snow as hubby and I had a small Sunday drive.